1/26/08
On Saturday, February 2nd, I will be a guest on the radio and internet show "Health Fitness Broadcast". The shows airs in Maryland, Pennsylvania, New Jersey and Delaware on WVLT Cruisin 92.1 FM from 12 noon to 1 PM out of NJ. It's a call in health and fitness show. If you don't pick up the signal, you can follow online at
www.healthfitnessbroadcast.com
The station hotline is (856) 696-0092
10/13/07
** Upcoming Speaking Engagement **
At the request of friend and former Haverford High School soccer teammate, Bill Toal, I will be the speaker at the annual Haverford Soccer Club awards banquet to be held November 30th at Drexelbrook. I am extremely excited to be able to speak to this group of kids, coaches, and parents. Learn more about HSC at
www.haverfordsoccer.org
And for those of you who might not know my roots, or have forgotten, check out the old picture on the bottom of the Photo page link.
10/3/07
ChesapeakeMan Ultra Distance Triathlon is in the books. It was a windy and challenging day but I finished strong and had a blast in the process. I took a different approach with my race report this time around. You can read it here:
Will probably still do the Philly Marathon in November. OK, I'm doing the Philly Marathon in November.
I will also have a sweet new ride in a few weeks. A new sponsorship agreement is putting me on a Valdora PHX carbon fiber frame. Check it out here:
9/12/07
The following profile ran in today's Town Talk newspaper - a Delaware County local paper.
8/15/07
In the continued spirit of trying to make a difference, I am using my participation in the ChesapeakeMan Ultra Distance Triathlon, as a fundraiser for fellow triathlete Jon Blais, a.k.a. "The Blazeman", who was taken from us too young at the hands of the merciless disease ALS, or Lou Gerhrig's disease.
Many of you know Jon was a seasoned and decorated triathlete, gifted writer & poet, and school teacher whose drive, heart, compassion and determination won the hearts of the world when he became the first ALS patient athlete to complete the grueling Ironman Triathlon World Championship in Kona Hawaii. One year later, Jon was forced to watch that race from a wheelchair. Seven months after that, Jon lost his fight to ALS.
But Jon's fight against his disease rages on in full force. Through the creation of the Blazeman Foundation, the multisport community is rallying around the cause to continue to raise funds and awareness for ALS. Please log onto www.waronals.com to learn more about Jon and the Blazeman Foundation.
Amyotrophic lateral sclerosis (ALS), commonly known as Lou Gehrig's disease, is a progressive neurodegenerative disease that attacks motor neurons in the brain (upper motor neurons) and spinal cord (lower motor neurons). Despite 20 million people dying from ALS since 1869, there hasn't been any significant effort to treat or cure this disease. Jon and ALS patients everywhere are basically offered the same treatment options as Lou Gehrig in 1939. Without raising awareness and funding, ALS will not receive the research efforts necessary to find a cure and will continue to strike down every person who is diagnosed.
Help me carry on his legacy and his fight.
Secured donations can be made online at www.active.com/donate/blazeman
Or checks can be made payable to Blazeman Foundation and sent to:
Blazeman Foundation, P.O. Box 19292, Boulder, CO 80308.
NO DONATION IS TOO SMALL AND EVERY DOLLAR HELPS.
I will also be wearing race number 179 when I race at ChesapeakeMan to honor Jon. Jon wore this number in the Ironman World Championships in Kona, Hawaii, 2005.
7/10/07
I haven't been very good with news updates. Hopefully you have been picking up tidbits from the blog page. I had pretty good races at Hammonton and Belleplain and picked up 2nd and 3rd in my age group. EagleMan Ironman 70.3 was OK. Not a great race but a great time and fun weekend. I had knee issues which are on the mend.
The Comcast CN8 special on the Lynn Doyle show turned out really good. If you didn't see it, drop me a note, I have a copy or can direct you to it.
The book continues to sell and I have had a couple of other speaking invites. What does it all mean ? Who knows. But I know it's all good.
5/7/07
Broad Street Run was a success yesterday. Perfect weather and a tail wind to boot.
Also, at the encouragement of friends, the expanded "RemissionMan" story has been published. Visit the icon on the HOME page of this site. A portion of (any ??) proceeds will go to the Leukemia and Lymphoma Society.
4/14/07
Brandywine Valley Duathlon was perfect today. Results are pending but I got out of it exactly what I needed - a jump start to the season and a good training race.
4/5/07
Please sponsor my Pennsylvania Dutch 150 ride in July benefiting the National Multiple Sclerosis Society.
3/29/07
Action News sports reporter Jamie Apody and our TEAM IN TRAINING triathlon group.
3/9/07
PhillyFIT News
Visit the March/April issue of Philly FIT Magazine for an article on Todd Wiley, Steve Brown, Jess Nixon, and Ken Modica
11/25/06
Philadelphia Marathon
Had a nice fun slow and social day. Got treated to American Express VIP passes, which was awesome. And got the chance to hang out with lots of friends at the expo and pre race.
On race day ..... I felt great through mile 14. Which didn't surprise me because that's been about the extent of my training. Hung with two friends, John and Monika until 14, then we all split. Mon was feeling a little stronger, but John bonked. At 14 I was so starved that I ran into my buddy Bill Hauser's hospitality tent and inhaled 2 glazed donuts. They REALLY hit the spot. Did a lot of walking/running from 15 to the finish. But that's about what I expected and didn't mind. I was under trained but didn't want to miss the day. So I faked my way through. Snagged a brownie from Laurie Hug and the Cadence Cycles crew at 19 and chased it with a cup of Yuengling Lager. That too hit the spot !
A friend of mine, Joanna, biked along side me from about 21-25 talking about - everything and nothing until her chatter made my legs hurt.
And at the finish line, in true diehard tradition was my wife, one daughter, my niece, and her daughter. Then it was back to their house for some pizza and a Pete's Wicked Ale.
All in all - a very fun 2 days. Next time - I might consider a few long training runs that are over 8-9 miles :) Not sure how many of these I can fake from recall.
10/03/06
ChesapeakeMan Ultra Distance Tri Report
ChesapeakeMan 2006 is now in the books but it's the one race that I think I will remember the most out of all others. As many of you know, earlier this year, I was diagnosed with Chronic Lymphocytic Leukemia. Although treatments went well and I quickly hit remission, I wasn't 100 % sure how all that would relate to racing an ultra distance triathlon just 7 months and 6 days after diagnosis….
I cruised into Cambridge Thursday afternoon, checked into the hotel and immediately went over to registration where I ended up helping out Vigo and his staff for a few hours before connecting with old Great Floridian Triathlon buddy Rob Weitzel and his Reston buddy Kevin Kunkel for the carbo dinner. Post dinner, we made our way back to the hotel and threw down a beer to better contemplate life, the weather, ironman, and why we do it all. Rob and I also found ourselves "calming" Kevin's nerves since this was his first ultra race. The irony in that is that we did such a good job, that Kevin ripped off a and finished 7th overall and 2nd in 35-39. One hell of a maiden voyage. After all those issues were addressed and resolved we parted ways for the evening.
Friday brought more camaraderie, banter, and pre-race organization and jitters. Hooked up with Jeff Candyman Gura. We packed bags, dropped off bikes, stared at the Choptank River – again contemplating life, the weather, ironman, and why we do it all. Then soon enough it was time to hit the rack and wake up to IRONMAN DAY.
I popped out of bed Saturday at about and threw down some food and a Hammer Perpetuem with a shot of gel cocktail and made my way to the start. The water LOOKED pristine. But we all know the saying that still waters run …… ugly with strong head currents and lots of jelly fish. And that's what we got. BUT, no worries, I made it out of the water. All swim times were off. The leaders were off by 10 minutes and the farther back you were, the more current you faced. After exiting the water, race director Rob Vigorito made his first reference to "RemissionMan". It was something like ….. "And RemissionMan Steve IronToe Brown from Philly EMERGES" ….. that was the first of several such references made throughout the day over the PA system. And it was very cool.
There are two good points to being slow in a 2.4 mile swim. 1) – It's easy to find your bike in transition. 2). There are plenty of people to catch on the ride. And I did end up having a pretty decent ride. The winds were pretty squirrelly and much of it was head on. But the final 12 miles or so of each loop had a sweet tail wind. All in all, I felt good on the bike. I ate well, and all systems seemed good. RD Vigo made two other "RemissionMan" references during the bike. Once after loop one, and once when I finished.
T2 was as sweet as it always is. By now, you are typically just DONE riding. This is where you start addressing some serious issues, like should I try to sell my bike on eBay or Craig's List, or … - no I'm kidding. I felt good and ran well for the first 4 miles or so. Saw Kevin Kunkel practically skipping and doing cartwheels on his way to a great finish. Saw Rob with some IT problems, but he pushed on as Rob does. And saw CandyMan with his typical fixed and focused IRONMAN glazed over glare that says – "I'm going to get this done." The ironman camaraderie is never more evident for the middle and back of the packers than on the run course. That is where the bond is really felt.
The finish was as sweet as it's ever been. Vigo again made a big deal out of "RemissionMan" and made the entire thing that much more special. I finished in something with a daughter on each side of me and a smile on my face. My support crew was in full force and it was awesome. My wife and daughters volunteered all day and still supported me every step of the way. They were the best.
At the awards brunch, Vigo again made a big deal out of RemissionMan, this time telling the whole story, then had me get up to a standing ovation. He smiled and we all had to choke back some emotion. Rob Vigorito - Class guy, class organization, class race. I was proud to finish and even more proud to finish as a survivor.
p.s. - I also wore race number 83 for invincible Vince Papale !
07/30/06
The following was originally printed in the News of Delaware County - July 26, 2006
Ironman faces his toughest race
By Diane McManus, CORRESPONDENT
07/26/2006
Stephen Brown knows about challenges.
In September, he plans to participate in the Chesapeakeman Ultra Distance Triathlon: a 2.4-mile swim, a 112-mile bike ride and a 26.2-mile run. As a seven-time Ironman finisher, he is familiar with this distance. He also is optimistic about completing it successfully. After all, as grueling a race as this is, he faced an even tougher one in 2006: a race against cancer.
Although Brown thrives on challenges, he prefers to choose which ones to attempt.
No one is required to enter an Ironman or run a marathon in order to survive, and many people live long, healthy lives without ever seeing the starting line of so much as a 5k.
Not so with cancer, for which there is no entry form and no option except fight it or die from it. Take an active role in the treatment or be a passive recipient of others' decision-making.
Because Stephen Brown is an Ironman, the choice was obvious.
Brown, a 1978 Haverford High graduate, played soccer, basketball and baseball in junior high and high school. A longtime Upper Darby resident, he visited a doctor early this year due to difficulty swallowing. His first assumption was tonsillitis. Born with large tonsils, he had escaped the almost-routine tonsillectomies performed on children in the past, and at 45, he was not eager for the surgery.
However, he finally took the needed steps, including pre-admission testing, and saw the procedure as something to get out of the way so that he could move on with his racing season. He even began to see the positive benefit of the surgery: "I figured, 'what the heck?' Maybe I'd breathe better and even get a little faster," he reports.
Not quite. After the testing, the surgeon who was to do the tonsillectomy confronted him with more disturbing news: an elevated white blood cell count and a referral to a hematologist/oncologist for more tests.
As it became clearer that the diagnosis was cancer-chronic lymphocytic leukemia, Brown's first reaction was one of disbelief. He was, after all, an athlete, living a healthy lifestyle. Cancer did not fit, even a relatively treatable form of it, such as his. "I was still struggling," he says, "with the reality that fun-loving, energetic, laugh the day away, race and train triathlon loving me and the word cancer would now be used in the same sentence. This is not how things are supposed to be. People call me Ironman. And I take that with much pride. 'Chemoman' doesn't quite conjure up the image that I want."
All the same, Brown dove into the role with the passion he had reserved for his racing. Indeed, he entered this new arena the mental equipment that had gotten him through the events he preferred, the ones he chose rather than had foisted upon him.
First, he was not about to stop the triathlon training: scale back, perhaps, when needed, but not stop. This much he made clear when the doctor suggested "giving that stuff a rest."
Indeed, Brown even ran home from some of his chemotherapy sessions - his way of letting the disease know who was in control. As he says, "Health and exercise are not a mere hobby of mine. They help define my core existence. And if that were also taken away, our problems would be far greater than just cancer."
Instead, exercise became a potent weapon in his battle against cancer. "I'm convinced," Brown says, "that staying active helped dilute all of those chemo side effects."
The path wasn't necessarily smooth, of course. Some side-effects are inevitable, even with healthy, fit patients such as Brown. During his first round of chemotherapy, these were milder than many cancer patients experience, and he bounced back quickly. "I would wake up," he explains, "with enough energy to build a house, then fade a little and take a nap. Then wake up again and feel well enough to run a few miles."
But in the second round of chemo, a new drug, Rituxin, was introduced, and as soon as Brown received it via IV needle, he experienced an unsettling reaction: high fever, chills, and shaking, to such an extent that, to Brown's disappointment, the treatment was stopped after only twenty minutes. Fortunately, the suspension of treatment was only temporary; the infusion was resumed once the symptoms abated somewhat. Brown compares his experience to being pulled out of a bike race while climbing a steep hill, expressing relief that "I was allowed to saddle up again, resume the race, and finish that day's 'stage.'"
The next day, he felt considerably better, and subsequent treatments with the same drug did not produce the side effects he experienced the first time. After this second round, he was pronounced "in remission," although his doctor explained that caution dictated finishing the four rounds to lessen the likelihood of any recurrence.
Through all the ups and downs of diagnosis and treatment, Brown believes that he had an invaluable support system: his family, his friends, his medical team, and very importantly, his sheer will to win the battle. Certainly, there were moments of discouragement: for instance, an internet search that yielded more bad news than good had Brown fearing the worst and almost yielding to despair. Yet, as an athlete, he had to bring to bear the tools of his training: focus, self-discipline, courage and endurance in order to regroup, to continue to fight and to continue to hope.
But this is not a battle to be fought alone. For Brown, family support has been crucial. His wife, in particular, he describes as "the perfect blend of companion, spouse, nurse, best friend, confidant, cheerleader, and press secretary," while his sister Chris offered both emotional support and "vitamin M" (Merlot), and his mother, recovering from heart surgery, made her son's health her first concern. Brown was especially concerned that the family stay strong and stay together. He had recently lost his father, and his children, their grandfather, so it was especially important to him not to give in to cancer or to self-pity.
His triathlete friends also offered a valuable network. "After family," Brown says, "they provided the most help and the best insights." After all, endurance athletes know about pain and persevering during rough patches.
Finally, it's important for a cancer patient to find a doctor he or she can trust and to get the best advice possible, including second and third opinions. In that respect, Brown felt fortunate in his cancer treatment center, the Fox Chase Cancer Center in Delaware County Memorial Hospital, and in his oncologist, Dr. Stephen Shore. While skeptical at first about Brown's continuing to train, Dr. Shore agreed to it, within reasonable limits, and his willingness to keep an open mind inspired Brown's trust and respect. The staff at the cancer center also won his confidence, not only because of their professionalism and upbeat attitude, but also, adds Brown, their "slightly twisted sense of humor."
One friend proved invaluable not only for his triathlon but for his medical experience. Brown called upon the support and advice of Dr. Robert Vigorito, a physician, a medical school professor (University of Maryland), and the director of the Chesapeakeman Triathlon in which Brown will participate this fall. Dr. Vigorito's influence was crucial in helping Brown find the best web sites and information about treatment resources-and a valuable source of support in his triathlon efforts as well. The race this September, Brown says, will be especially rewarding, allowing him to show his friend how well he's done with his treatment and his training. He says he feels "better and stronger than I have for years."
Back now to racing as well as training, Brown participated in the Lake Lenape Triathlon in Mays Landing, New Jersey on July 8, then followed that the next day with the American Cancer Society Bike-a-thon from Philadelphia to Mays Landing, a distance of 62 miles. Only a week later, he was back in action again, in the Stone Harbor Triathlon. Although conditions in the Stone Harbor event were too hot for comfort, Brown is happy to be competing again. Whereas before his diagnosis, he would pick and choose races, he is "excited to race as often as I can, have a bunch of experiences and as much fun as possible."
And to show his friend, Dr. Vigorito, just how much fun life has become for him since his illness.
©News of Delaware County 2006
07/30/06
The following was originally printed in the News of Delaware County - July 26, 2006
'Beating cancer' is but one of Brown's pursuits
By Diane McManus, CORRESPONDENT
07/26/2006
How does he find the time?
Friends of Stephen Brown tell of an energetic, generous man. Says friend and fellow triathlete, Woody Freese, Brown is "one of the most caring, charismatic and supportive individuals I know, someone who will always put someone else ahead of himself... not only in the triathlon world, but elsewhere."
Alan Morrison, one of the founders of the Philadelphia Insurance Triathlon (late June), describes Brown as "a role model" for the sport.
Besides obviously benefiting physically and mentally from the triathlon, he is willing to give back to it. (In fact, when asked if he planned to participate in the Insurance Triathlon this year, Brown said he was volunteering, and referred to the event as "a give-back race.")
Morrison cites Brown's "sense of balance. He doesn't let the sport get the better of him," Morrison says. "He's always looking out for everyone else, asking what's the right thing to do."
One example he offers is Brown's involvement with the Leukemia and Lymphoma Society's Team in Training, a group that helps to raise money for cancer research while participating in different races, including triathlons.
Both Morrison and Brown have been active supporters of this group. Morrison reserves as many slots as needed for members of Team in Training in the Insurance Triathlon. Brown offers his skills as a coach.
Recruited by Team in Training volunteer and cancer survivor Susan Thornton to help coach Team in Training following his bout with leukemia, Brown seized the opportunity. "He is tremendously patient and giving of his time, energy and talents," Thornton says.
"He not only is an awesome triathlete, but can now bring a whole new perspective to help these newbie triathletes rise to the physical challenge as well as the fundraising challenge."
Thornton admires Brown's ability to coordinate a busy schedule while remaining a "committed family guy who always seems to find time for his kids and family in the middle of working, training and chemo treatments."
Hammy Handwerker, principal of SLHSurge, a sport marketing communications and management agency in Deerfield, Ill., and a longtime Brown friend, is also impressed with the local triathlete's ability to juggle family, work and community service.
"With all that's going on, being an unabashedly proud husband and dad, hard-working desk jockey at Wilmington Trust, beating cancer, working and consulting for triathlon event directors and training for the races on his calendar, Steve still finds time to volunteer and raise money for those who need help," Handwerker says.
"A few years ago, Steve asked me to help him get some publicity for his efforts on behalf of a fallen police officer's family in Philly's suburbs. It was not the first nor last such selfless effort I had heard about from him or that I've worked on.
"And there's never an ulterior motive. I can say the same about Steve's efforts to bring me into the fold on new opportunities he's embarked on. Simply put, the guy is a real mensch."
Brown admits that he has no idea how he manages to put it all together. He simply does what he needs to do. "I will tell you that I am seldom bored," he said. "One thing that I know for sure is that I will probably NOT look back on my life some day and say 'I wish I had....'
"When I see or hear an opportunity that pushes my buttons, I react to it and tend to jump on board. I have this burning desire to make a difference ... somewhere ... everywhere. So I just keep snatching up as many brass rings that present themselves on the merry-go-round of life."
Cancer may have threatened Steve Brown's health and even his life, but it didn't touch his healthy outlook on life.
©News of Delaware County 2006
07/27/06
It's that time again folks. The MS150 is right around the corner and I'm on my knees asking for a little help…. Again. The MS150 is a two day, 150 mile bike tour benefiting The National Multiple Sclerosis Society. We ride from Cherry Hill NJ to Ocean City on Saturday, September 16th and return the next day. This is truly a rewarding and outstanding ride for a great cause.
Obviously, we can't do this without the generous support and donations from folks like you. Please help us make a difference.
No donation is too small. If you can help, please make checks payable to NATIONAL MS SOCIETY and mail them to:
Steve Brown 129 S. Keystone Ave. Upper Darby, PA. 19082
07/25/06
Just a word to the masses out there. I have a couple of srpint tris under my belt so far this year, and the American Cancer Society's Bike-a-thon and I feel really good. Everything feels great and I'm looking forward to ramping up my miles in preparation for ChesapeakeMan Iron Distance race on 9/30/06.
Also, looking ahead, it appears that we are going to Austria in '07 to do Ironman Austria. Excited about that.
06/04/06
Received A Distinquished Alumni Award from Cabrini College for community service work done through multisport racing. Turned out to be a very nice luncheon and awards presentation.
4/27/06
Lots of good stuff is happening. If you have been following my blog, you know that I am officially in remission as of 4/24. That's two months, to the day, of my diagnosis. There must be some kind of record in there somewhere. We're sticking with the chemo to nail this thing good and shut.
On May 24th, I will officially be voted in as a new Board of Director Member of the Community YMCA of Eastern Delaware County. Dinner and reception will be at Drexelbrook.
And on June 4th, I will be honored at Cabrini College as their 2006 Distinguished Alumni for Community Service. An awards luncheon will follow a Mass.
3/16/06
OK gang. Where have I been ? Around...but busy. You'll have to read the attached BLOG and go back to late February to get the dirt. I'm not wasting space here talking about it. It is what it is. I'm gonna beat it and life is a beautiful thing. If we play our cards right, this "news" will all be behind me soon anyway.
One really good thing that has come out of it all is that I am going to start helping Todd Wiley coach the Leukemia and Lymphoma Society's TEAM in TRAINING triathlon group. I'm most stoked for the opportunity to work coach alongside Todd, and help others in the process. More on that later.
Bob Vigorito threw down the gauntlet and wants to kick my ass at Neil Semmel's Brandywine Valley Duathlon on April 8th. I may just have to give him that chance. I wasn't planning on racing that early, but VIGO has been AMAZING through my diagnosis and treatment. I would love to see him.....(and kick HIS ass).
Oh and the new Philly FIT is out. I have a couple of things in there.... have it a go.
Keep them mowing blades sharp. :)
1/6/06
The new PhillyFIT Magazine is out. Be sure to check out my "Triathlon Scene" section in the current issue. And, yes, that's me on the cover....ugly, suffering, and climbing Whiteface Mtn. at Ironman USA Lake Placid.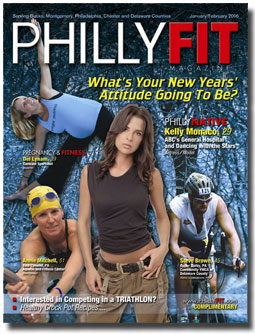 12/31/05
Happy New Year everyone ....
Tune in to WWDB 860 AM again on January 21st at 4 PM. I'll be discussing the topic "Are We Pushing Our Children Too Hard in Competitive Sports" with Dr. Cory Bank. Should be a hot topic.
10/23/05
Be sure to tune in to WWDB 860 AM on Saturday November 5th from 4 - 5 PM. I'll be a guest again on "Mind, Body, & Balance" hosted by Dr. Cory Bank.
10/3/05
Keep an eye on PhillyFIT Magazine. Publisher Jami Appenzellar is launching a dedicated section for triathlon which I will run with and write. The tribute to my dad will also appear in the January issue.
10/3/05
The Chesapeakeman Ultra Distance Triathlon -
It was a pretty good day all the way around. Weather conditions were perfect and I felt pretty strong.
9/25/05
Rode the MS150 City to Shore Bike Tour with my daughter Jennifer and her friend Danielle. Their participation was part of the high school graduation project. They had a GREAT DAY.
7/30/05
Lake Placid - Ironman USA - IM number 6 is behind me, but it kicked my butt. I was undertrained and it showed. I finished, but that's about all I can say.
7/14/05
Be sure to tune in to WWDB 860 AM on Saturday July 16th from 5 - 6 PM. I'll be a guest on "Mind, Body, & Balance" hosted by Dr. Cory Bank and Susan Toler. The topic will be racing for charitable causes.
6/5/05
3rd place Age Group - Belleplain State Forrest Duathlon.
4/30/05
Ths year I am doing 2 different multi-day charity tours for Multiple Sclerosis. In June, I am doing the Dutch 150 in Lancaster. And in September, I will do the MS 150 City to Shore. As always, help is needed and appreciated. Follow the link to help out and make a quick epledge.
And THANKS !
3/26/05
Look for "Triathlon 101" at Super Fit Family Fitness Center in Conshohocken on April 23rd. Details to follow. Expect lots of cool stuff from Hammer Nutrition.
3/05/05
Triathlon 101 will next be held at the Community YMCA in Lansdowne, PA on Tuesday, March 22nd at 7:30 PM. Click on the Tri 101 Seminar link for seminar content. Call the Y at (610) 259-1661 to hold a slot. Admission to this one is FREE.
I've added some 2005 race dates and more will follow soon. It's going to be a busy and GREAT year. Check out the RACES link.
One of this years bigger fund raising efforts will be "Barb's Team". The Team consists of several Philadelphia area triathletes who will be racing in honor of our friend Barb Janz who we lost to lung cancer last year. The Team will be racing Ironman USA Lake Placid in July and will be raising funds for The American Cancer Society as part of the Janus Charity Challenge. Details to follow.
Many thanks to all who helped with the Carosi efforts. You know who you are. Special thanks to Cecily Tynan and Pat Croce for their contributions to the Carosi benefit auction.